Inger Kirstine Gravgaard [826] 28

Cause of her death was Canser.

Other names for Inger were Inger Kirstine Larsen and Stinne Larsen.


Birth Notes:
Fødested Torsted Klatmølle, der blev anlagt 1650, men nu er nedrevet.

Christening Notes:
Forældre: Møller Poul Evald Gravgaard og hustru
Nikoline Johanne Gammelgaard af Klat Mølle
46 år / 24 år

Faddere: Moderen
Gaardmand Poul Kristian Poulsens hustru af Ø. Vandet
Ejendomskomissionær Peter Gammelgaard, Hvidbjerg, Thyholm
Sognefoged Niels Rask, Thorsted
Gaardmand Peter Andersen (Faartoft), Thorsted


Events
1. Confirmation, 3 Oct 1926, Hansted Kirke. 32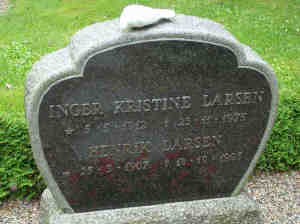 2. Gravsten: Kåstrup Kirkegård.
3. Census, 1940, Kåstrup Sogn, Hillerslev Herred, Thisted Amt. 30

Inger married Henrik Larsen [825] [MRIN: 548], son of Jens Christian Larsen [881] and Karen Marie Simonsen [882], on 6 May 1930 in Hillerslev Kirke 13,26.,27 (Henrik Larsen [825] was born on 25 Mar 1907 in Øster Rosholm, Vigsø Sogn, Hillerslev Herred, Thisted Amt 28, christened on 23 Jun 1907 in Vigsø Kirke,28 died on 18 Oct 1995 in Ballerumvej 249, Kåstrup, 7700 Thisted, Viborg Amt 20 and was buried on 22 Oct 1995 in Kåstrup Kirkegård 20.). The cause of his death was Canser.